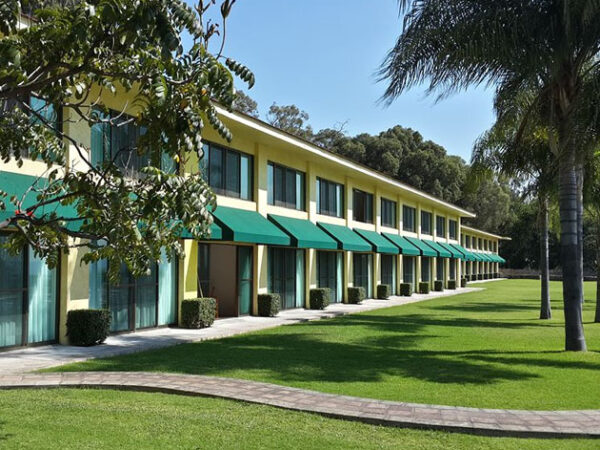 Hotels
Hotel Real de Chapala
|
Welcome to Hotel Real de Chapala Ajijic Jalisco Mexico
One of the best accommodations in the Ribera del Lago, a place undoubtedly created to relax and enjoy in a natural environment surrounded by many beauties characterize this place.
Hotel Real de Chapala Ajijic is a beautiful lodging that counts with vast and ample gardens from where they will be able to appreciate not only the beautiful views towards the mountains but so impressive Lake of Chapala, as well as how to enjoy its relaxed environment and all its amenities that were undoubtedly protagonist of its rest and relaxation.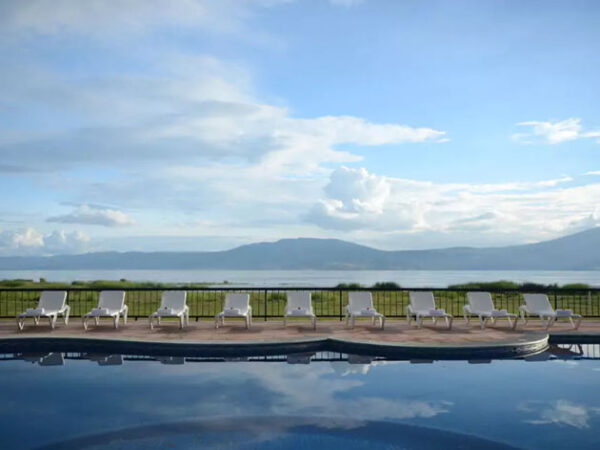 The place is located in one of the most visited and popular areas in this destination, adding that it is in a residential area that is one of the most exclusive in the Pueblo Magico of Ajijic.
The location of this Accommodation is very good and easy to access, whether coming from Guadalajara on the one hand, or arriving from the International Airport of this city that is a few kilometers away, which means that in a short time you can enjoy your vacation within minutes.
This adding of its good location the beauty of the environment that surrounds as well, the spectacular views of the Lago is undoubtedly one of the favorite places to stay next to the Riviera of Lake Chapala
This is a place that could be a Resort due to the amenities of the facilities that it has, which are a great attraction to enjoy a weekend in this destination.
Has two pools between the gardens to enjoy all day with family or friends of unforgettable moments, in addition to tennis courses, soccer field and volleyball courts there is a recreational area specially designed for children.
It has an on-site restaurant service with a varied and appetizing menu for all members of your family or your friends.
Real de Chapala Hotel Ajijic Jalisco Mexico Accommodations
It has comfortable and spacious rooms from which you can enjoy pleasant views of Lake Chapala, as well as its gardens.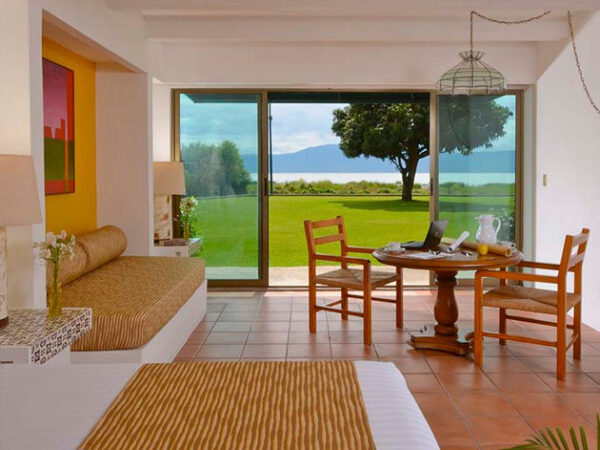 All rooms have cable TV as well as fully equipped bathrooms with all amenities, telephone service to be communicated, also have suites with separate living room, private pool where you can relax and enjoy in the comfort and privacy of your room, as well as wi-fi service.
For any inconvenience and if required it has laundry service as well as ironing your clothes.
This lodgel has 4 types of rooms, which are distinguished by their location, as well as the views and amenities they offer.
There are simple rooms that are located on the ground floor which have a view of the lake, which are ideal for the family since it has two double beds and a large sofa bed, and direct access to the pools, which It makes it quite comfortable and fun to have fun in the areas.
Other rooms that also have a view of the lake with the same characteristics as the ground floor. Only the garden and pool area has no direct access.
The Suites rooms, are ideal to enjoy as a couple as it has a king size bed, as well as a private pool, a living room and two TVs to entertain if necessary.
Real de Chapala Hotel Amenities
Enjoying a nice holiday in place like this is a sure thing any season of the year, having two heated swimming pools with a wading pool, in which one has a jacuzzi, makes them pleasant to be enjoyed together with the whole family, or in a visit with the friends or your partner.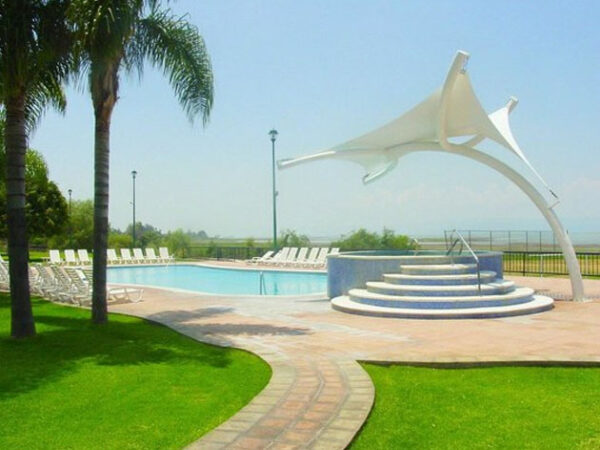 It has an Aqua Bar where you can enjoy your favorite beverages as well as your favorite beers and cocktails in the comfort of the facilities next to the pools, while you are relaxed and enjoying the good weather that you enjoy in Chapala lying on your lounge chairs Basking in the sun or simply enjoying the day.
Inside the facilities there is a living room that has 2 pool tables and cable TV to have fun with friends or family, as well as being able to be connected to the internet in all the facilities.
Its tennis courts that have night lighting, with extra charge, are ideal to exercise a little and have fun with some games, unfortunately those of the does not provide equipment for rackets and balls, so we highly recommend bringing your own.
So that you do not miss the beach atmosphere in a lake of Chapala, has a beach volleyball court that will undoubtedly be one of the favorites with your friends.
You can come driving and be quiet as it has a private center with capacity of up to 150 cars which will make it easier to come and go to this place, either from the city of Guadalajara, the International Airport that is a few minutes from distance, or whatever part you come from.
Hotel Real de Chapala Ajijic Restaurant and bar on site
Restaurant serves international food and has two nice terraces to enjoy the food from breakfast to dinner while enjoying the pleasant weather that is in the magical town of Ajijic.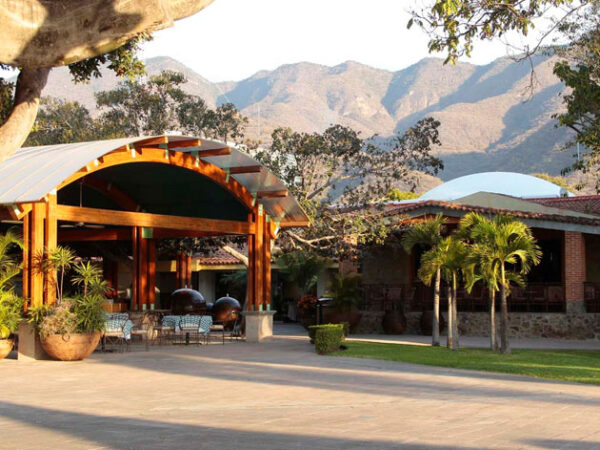 Hotel Real de Chapala Ajijic offers a varied menu of traditional Mexican food as well as a wide variety of international dishes that will make you satisfied with whichever craving you have, as well as having a special and fun menu for children.
Casual Bar Maria Bonita
This bar is a favorite place to meet with friends and talk for hours, as well as make meetings or celebrate special occasions, where you can enjoy your favorite drinks as well.
Comfort and Comfort
The spacious facilities at Real de Chapala Hotel, their pleasant amenities as well as its beautiful views of the entire natural environment Where it is located, makes this place imperfect for all kinds of family gatherings, or celebrations such as weddings or any social event in this place.
Hotel Real de Chapala Ajijic has 40 rooms with nice views towards the lake as well as another 40 with views towards the garden and 5 suites with private pool, we are sure that they will be able to accommodate a large group of visitors and guests for your meeting or event.
It has two special rooms to celebrate this type of parties and meetings that together with the facilities makes an ideal place for events.
Hotel Real de Chapala Ajijic Jalisco Mexico Map