Jocotepec Jalisco Mexico at Chapala Lake
Welcome to a calm little town by the Chapala Lake Jalisco, which is set as one of the traditional spots for expats retiring in Mexico, visiting friends or having a winter break down the border.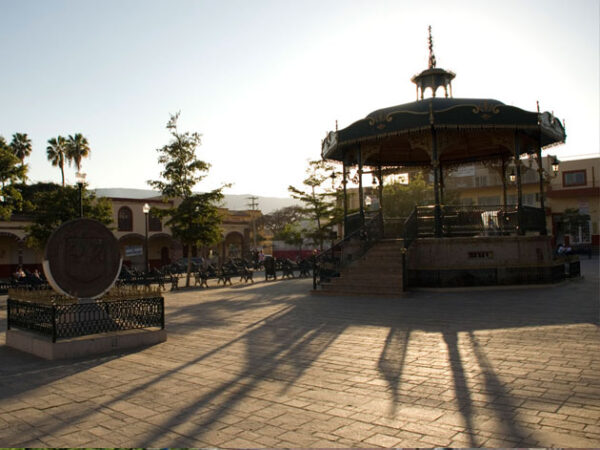 Jocotepec Mexico along with many other along the shore of the Lake of Chapala, is one of the largest settlements in the area.
To visit this place and appreciate the portals that is full with visitors, curious to know all the culture and tradition that exist in this small town, enjoying all the flavors and colors that reflect the daily life of the inhabitants, that for several centuries and generation after generation, have made this place, a unique and special place next to the lake.
The main square is the protagonist that attracts a large number of visitors as well as residents, who invite to appreciate all the attractions that surround it ,as its church, the kiosk and the various restaurants around offering the delicious and traditional birria, with views panoramic of the Cerro Viejo.
Is part of the main entrances to a corridor like along the shore, that starts in main Downtown Chapala city and ends in Jocotepec Jalisco Mexico or vice versa.
Here you may fine great places to visit, from it's traditional main square, to town city market, and many small shops around, with stone cobbled streets all around and many old style mexican casitas.
This location is well known for its ice cream, a traditional artisan style made ice cream, that have made famous in many places, especially in Guadalajara, where is usual to find "Nieve de Garrafa" that along with the Tejuino are the most requested on the late spring and early summer hot days.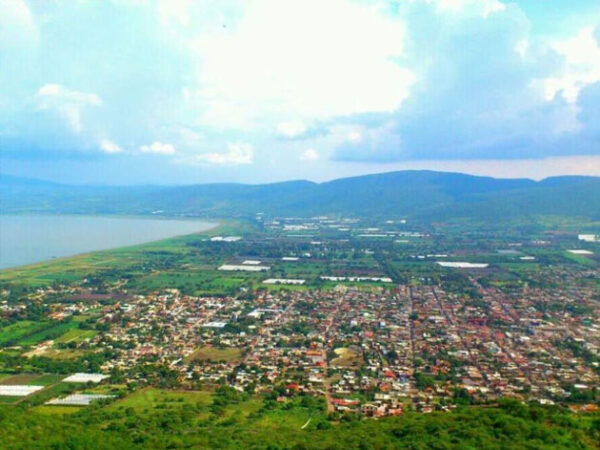 Retired communities in Jocotepec Mexico in Lake Chapala Jalisco

Located by the Lago de Chapala, next to the mountain range in the back, It forms part of one of the preferred places to retire due the great weather year long, some people claim they have the best climate in the world.
In this place there is a small population of retired foreigners, who as well as in their neighboring towns of Ajijic or Chapala, have found an ideal place to enjoy your rest, not It is such a large community compared to that found in the other towns of the Riviera, but it will eventually grow thanks to the developments that are taking place in this place.
Many of these retired foreigners especially enjoy this community, mainly because of the warmth of the inhabitants of this town, who have gradually adapted them and have fully integrated into the community.
Part of the attraction is that the cost of living in this part of Lake Chapala is lower compared to the other communities that are most popular in the region.
So it won't be surprised to find people from the US or Canada and Europe living in a permanently way.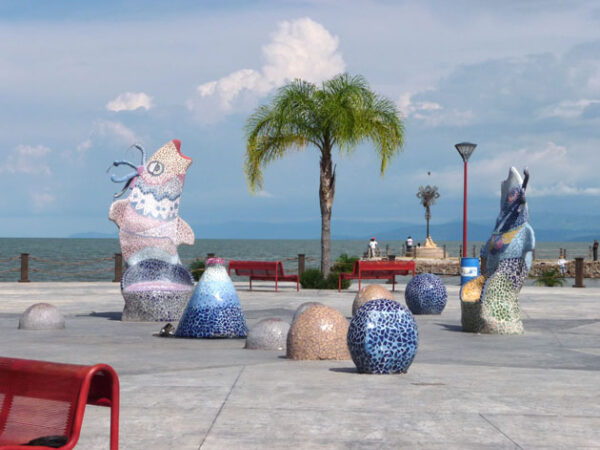 Enjoy of Perfect weather year round in Lake of Chapala
Many people from the city of Guadalajara that is just about 1 hour driving, have their weekend homes, or second homes.
They love to spend their weekends and holidays in this place by the lake, you will find many local attractions, great things to do and to see.
Plenty of places to stay in Jocotepec Mexico, from small hotels, bed and breakfast to boutique hotels, and Vacation Rentals Casitas so you can accommodate your whole family and friends.
Jocotepec Jalisco Hotels
Roca Azul RV Cabanas

A very nice place surrounded by nature and many green areas which are visited by local birds enlivening their chants creating a relaxing natural environment. Roca Azul RV Cabanas  has a thermal pool that is pleasant to enjoy in any season of the year in conjunction with its beauty treatments and steam room service for a relaxed visit to this part of Lake Chapala. Roca Azul RV Cabanas  is an easily accessible place large enough to hold events of any kind and to comfortably accommodate a large number of its attendants. It has a private sports club and nice cabins to accommodate 2 to 10 people as well as pleasant camping areas and enjoy the adventure of living with nature in a green area with barbecue grills for comfortable family afternoons. Km 53 Carretera Guadalajara Morelia 45800 Jocotepec Jalisco 7H8G+HM Roca Azul 2da. Seccion Jalisco 01 33 1409 8161
Jocotepec Mexico Vacation Rentals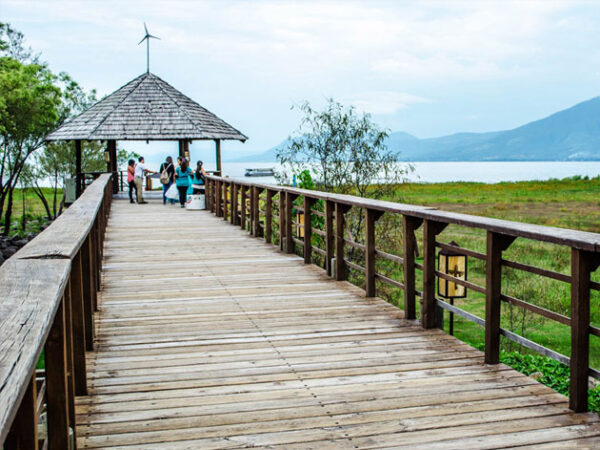 Malecon Jocotepec Jalisco Mexico
Every visit to the Chapala Lake, should include a visit to this little town, walk around the main plaza and enjoy some their traditional and handmade nieve de garrafa.
This place so visited and so popular with tourists as well as local residents, it was created in recent years as a way to highlight the beauty that these landscapes offer, creating a lasting infrastructure in which families can go quietly to enjoy the benefits that this place offers them.
The place was already known for its beautiful sunrises that are offered, so it was a very successful move by the town council to create this urban space for the enjoyment of all, and today for many cultural events as well as sporting events which are celebrated year after year becoming a tradition.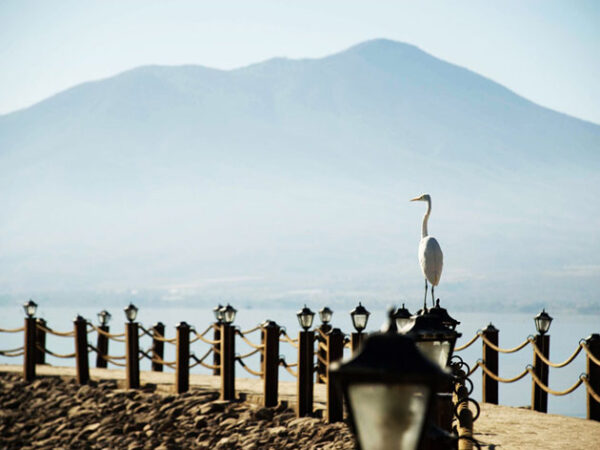 If you are staying in towns around Lake Chapala Mexico like Ajijic, San Juan Cosala or The town of Chapala, you may find some specialized stores for all your needs.
Where is Jocotepec Jalisco Mexico
The location of this town is located on the west side of the lake, is one of the largest communities of the Riviera and certainly one of the favorite places to visit for the culture and tradition that this place preserves.
Jocotepec Mexico Weather
In addition to the climate that makes these visits more pleasant with average annual temperatures of around 71 degrees Fahrenheit having the warmest temperatures in May and the coolest in January.
Many visitors and permanent residents of the region usually visit this town. Especially on Sundays where, like any other town, it is full of tradition and deep-rooted customs for many years.
Finding this town quite easy due to its geographical location and it was transport routes in which converge as it is the gateway for other major populations and destinations in the state.
The tradition goes hand in hand with the handmade products that are created here with an interesting amount of products that go from the traditional level of carafe, through the typical wooden furniture, and some colorful and distinctive sarapes.
Jocotepec Mexico Real Estate
In this town which is one of the oldest in the region, the offers of Lake Chapala Real Estate in Jocotepec Mexico properties for sale are very varied, since you can find a very traditional small house, up to large hacienda-style properties with all the traditional touches of the Mexican culture.
Club Residencial Riberas del Chante

Chantepec Jalisco 7JR2+V6 Chantepec Jalisco

Fredos Place

Calle Caudal 6 El Chante Jalisco. Jalisco 7JW8+WP Chantepec Jalisco

Vista del Angel

Carr Jocotepec-chapala 942 Jalisco 7JVG+5X Jaltepec Jalisco 01 33 1176 1613
And on the other hand, of a house of much more modern and of recent construction in several of the private developments that have been built inside and in the surroundings of this town, in addition to houses and apartments made, they are perfect for all tastes and needs as well as budgets.
Lake Chapala Jocotepec Jalisco México Map