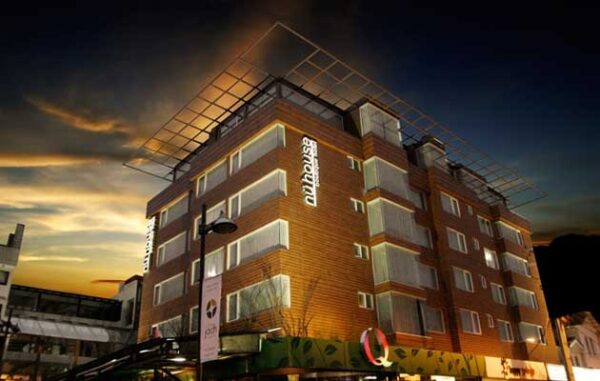 Hotels
Boutique Hotels Lake Chapala
|
Charaterized by their intimate atmosphere, the type you are looking for in Boutique Hotels Lake Chapala. That distinguis themselves different larger chain hotels, offering personalized attention and styled accommodations . You can find the one with features that many people around the world love.
Best Boutique Hotels Lake Chapala Baja California Mexico
Like a small hotel with few rooms, that keep very intimate creating a great ambiance of personally service and attention to all their guests.
Hacienda del Lago Boutique Hotel

The set of well-kept gardens combined with special attention from its staff and the cleanliness and comfort of its rooms make the Hacienda del Lago Boutique Hotel  located a few steps from the shore of Lake Chapala a place ideal to fully enjoy this destination enjoying those landscapes and their pleasant climates. Hacienda del Lago Boutique Hotel with all its splendor and colonial style is reserved for adults only place where the comfort of its facilities as its outdoor swimming pool makes a favorite place for rest and relaxation, conveniently located close to nice restaurants for the taste of its guests.

Hotel boutique Posada San Angel

Morelos 127 Chapala Centro 45900 Chapala Jal. 7RQ6+H8 Chapala Jalisco

Casa de las Garzas – Hotel Boutique

casadelasgarzas.com

La Nueva Posada Ajijic

With all the colonial charm and the amenities and services necessary to enjoy a great vacation, the La Nueva Posada Ajijic Boutique Hotel is a great option for a romantic escape to a paradisiacal place. that is a favorite place that reflects all the flavor and style of a peaceful Pueblo with colonial style, its rooms furnished with colonial style and decorated with original paintings offer beautiful views towards the lake, besides being surrounded by beautiful gardens and a nice pool, Besides having a restaurant with international food as well as traditional Mexican that makes it a place is really special to enjoy a stay in Ajijic. 7PWR+C8 hotelnuevaposada.com

Donaire Boutique Hotel

An accommodation with a great view, ideal to escape from the city in a comfortable weekend or any special event that deserves, the Donaire Hotel Boutique  is a very comfortable place with pleasant facilities and a design that in conjunction with its great food and the pool will make a great experience in Lake Chapala.  Donaire Hotel Boutique has all the services including a restaurant that has a very convenient location close to the Malecón and downtown. This is the favorite place for its visitors thanks to its unparalleled views of Ajijic as well as the modern contemporary architecture that is has. Juarez 21 Centro 45920 Ajijic Jal. 8P3P+MR Ajijic Jalisco donairehotelboutique.com 01 33 2338 3871

Casa Miura Hotel Boutique

Calle Rio Nazas 15 Rancho del Oro 45920 Ajijic Jal. 8P2F+RX Ajijic Jalisco 044 33 3129 8623

La Vida Bella

La VitaBella Soul Spa Hotel & Boutique Rafael Osuna 250 Raquet Club 45820 San Juan Cosala Jal. 7MQC+X9 San Juan Cosala Jalisco lavitabellasoulspa.com 01 387 761 1145

Areval Boutique

Corona 50-54 San Cristobal Zapotitlan Jal. 6JFC+XQ San Cristobal Zapotitlan Jalisco
Their have their distinctive flavor and will be different from one to each other, with it´s own personality.
A great design is a big feature in this accommodation type, combining some contemporary style with some historic and chic details.
A combination of elegance, style, artisitic sense and luxury with upscale amenities and services.
All of them have their own personality, some are fun and funky, trendy and offbeat, and sometime eccentric.
Usually located in uncommon places where it´s add a special vibe or ambiance of it´s location, sometimes hidden from noisy a crowded places.
As a part of it´s personality is it´s culture, reflecting part of the heritage and local historic background, giving a unique and distinctive touch that can be found just in a specific part of the world.
Luxury Hotels Jalisco
An always thriving and personalized service often offered by their very owners or a great staff that share the same vision as the the boutique hotel has.
providing great great extra amenities customized just to your needs from a specific menu, to any requirement to a a great activity in the area.
It is not surprise that many of the best bars and restaurants are located within this great accommodations, reflecting the quality of this very places from the core.
The benefits of finding great Boutique Hotels in Lake Chapala are great.
You can find these style of accommodation in this destination, for the experimented traveller that looks for the special and the personalized service.
The intimate space for your vacations, that kind of intimacy can´t easily found in big Chains Hotels and Resorts, we know what you are looking.
Most of these boutique hotels are small enough to have it´s own charm and personality, that suits the traveler itself.
Here in Lake Chapala Jalisco, being located in Mexico with it´s huge history, culture, and traditions, make most of these hotels unique, mixing i´ts regional flavor with the modern decor.
Enjoy the best meals, drinks, experiences from the fine personal that is going to make your vacations more than memorable.